LED Lighting Solutions for Industrial Environments
LED Lighting Solutions for Industrial Environments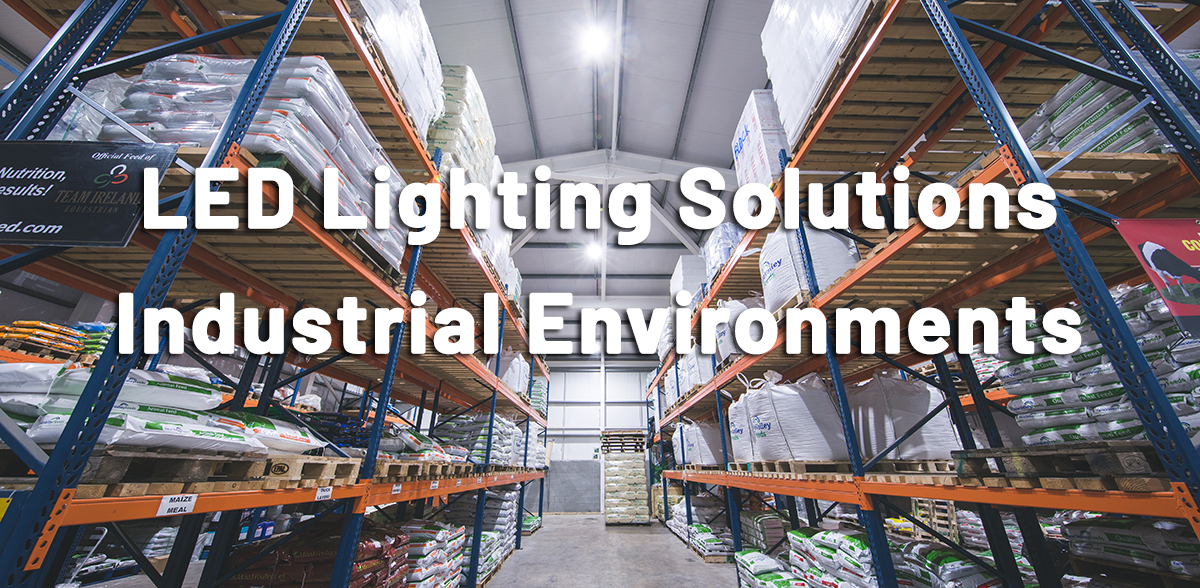 Industrial lighting is changing the game for many companies and facility owners. In recent years, LED lighting has outperformed other technologies, particularly in energy consumption, lumen output, and maintenance costs.
Lighting in industrial facilities must meet the demanding requirements of damp, dusty, and high-risk environments. Installing the correct LED light in the right place helps improve efficiency, reduce human errors, boost staff concentration levels, and mental health.
Traditionally, industrial lighting required energy hungry, high powered lighting solutions in the form of metal halide, sodium and mercury-vapour light sources. However, this is no longer the case thanks to LED technologies. Industrial sites now have the option of using very powerful light fittings that use a fraction of the energy.
There are many major benefits to LED Industrial Lighting, some of them include:
Reduced Energy Consumption – For some companies, industrial lighting can account for up to 80% of their energy costs. The longer-lasting and energy efficient industrial options from our range can massively reduce these costs. Our fittings are extremely high performing, producing a high lumen output against very low wattage, allowing end users to save massively on energy consumption.
Lower Maintenance Costs – The upfront costs of upgrading to an LED industrial lighting system can be off putting for some business owners. However, it is important to understand that LED lights have an extremely long expected lifespan. For example, the average lifetime of our range is 40,000 hours. This means the fittings will not need replaced for 15 to 20 years, depending on the business running hours. Also, 'Pay As You Save' is sometimes an option for customers upgrading to LED. This is a very attractive option, as the client uses their energy cost savings to pay off the installation.
Enhance Health & Safety – An efficient LED lighting system for your warehouse will help create a safe work environment by ensuring a well-lit workspace.
Improve Sustainability – An upgrade to LED will lower a company's carbon footprint as their energy costs will be reduced. The environmental impact will be minimized with improved efficiency and less waste.
There are different types of LED industrial lighting available to choose from. The type of light fitting that you need will depend on the size of the industrial area, machines in operation, and the purpose of the warehouse. The different types of industrial lighting include:
Damp-Proof Luminaires for Special Applications
High Bay Luminaires
Damp-Proof Luminaires for Special Applications
In the industrial sector, in factories with many open milling machines for example, damp-proof luminaires are needed that can resist residues in the air. Our most popular fitting for these type of environments are the 54W Luka Non-Corrosive LED fitting. The fitting is resistant to dust, moisture and spouting water, all while offering energy savings of up to 50%. They distribute a uniform light with a wide beam angle and are renowned for their easy installation and connection. With an IP66 protection rating, the fittings are extremely robust and specifically suited for industrial use with oily environments or uncovered outdoor applications.
The fitting is also available as an emergency option.
High Bay Luminaires
As the name suggests, high bay lights are used to illuminate spaces with high ceilings. Warehouse ceilings with a height of 20 feet to approximately 45 feet require high bay fittings, whereas ceilings under 20 feet require low bay lights.
High bay LED lights provide a huge light distribution due to the frosted tempered glass cover. Our popular range of LED high bay lights offer huge energy savings and high performance, suitable for replacing conventional lighting in general industrial areas. The range consists of 100W, 150W, and 200W high bays. With a long life of 40,000 hours, the fittings require low maintenance. Combined with a rating of IP65, the high bays are a popular choice for replacing conventional lighting in general industrial, manufacturing, and warehousing areas, as it is dust and water resistant. Another useful feature is the fixed loop for suspended mounting, making it a very simple and quick installation.
Another benefit of LED high bay lighting is that they provide clear, uniform lighting with little glare. There are different types of reflectors to choose from that can accomplish different kinds of illumination. Aluminium reflectors make light from the high bays flow directly downward to the floor, making it more direct. Whereas, prismatic reflectors create a more diffused lighting, this is a more suitable option for illuminating shelves and other elevated objects.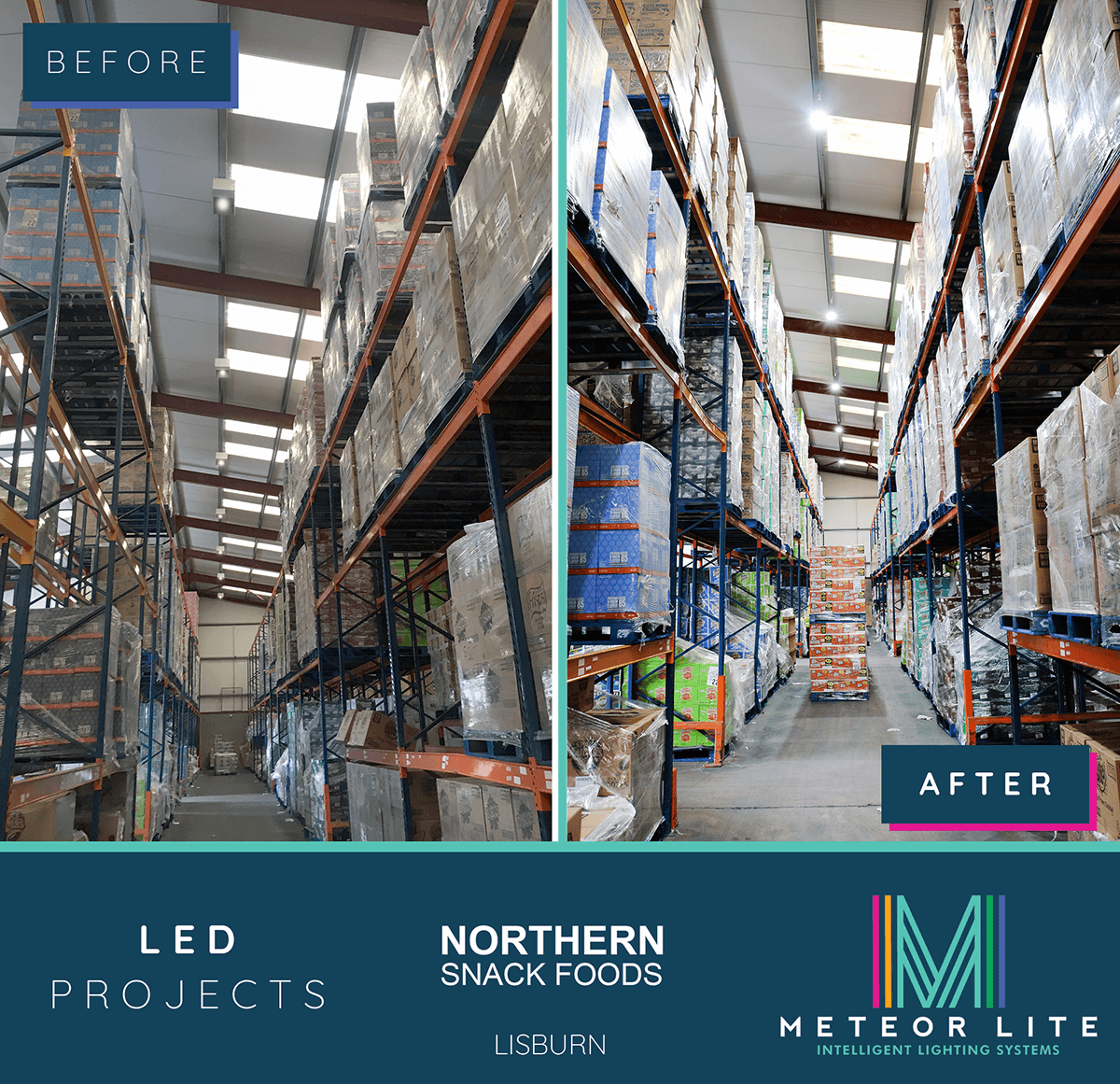 Safety Considerations for Industrial Lighting
The correct colour temperature and consistent lighting levels are essential for effective lighting in factory and warehouse settings.
The LED colour temperature can make a significant difference to the look and feel of a workspace. As previously stated, quality industrial lighting will increase the productivity levels of your staff and make the area safer. If staff are working in a dim and dull environment, motivation levels will be down, and the possibility of accidents is higher. This is a major health risk to employees, particularly for employees that operate heavy machinery. Too little or too much illumination can create a potential hazard. Bright white daylight colours are perfect for industrial applications, where staff are working for long hours.
Conclusion
If you want to reduce your energy consumption, lower maintenance costs, enhance health and safety, and improve your company's sustainability, browse or Industrial Lighting Range or contact us today to organise a full LED Lighting Audit of your warehouse.
Meteor Electricals' sister company Meteor Lite provide bespoke LED lighting solutions to businesses throughout the UK and Ireland delivering cost efficiencies and improved working environments through state of the art lighting systems.
Part of the Meteor Group, the company has been involved in LED lighting since its introduction into the European market and it is this experience, knowledge and understanding which helps position Meteor Lite as one of the leading LED solutions providers across the UK and Ireland.
Do you want to know the exact amount of money you can save with LED lighting? Each of our clients receive a detailed project pack on completion of their audit. Our pack is tailored to each business and gives an in-depth analysis of the project. Please contact a member of our team today and arrange an LED audit. Email [email protected] or call 0845 305 2720.