How to Choose the Correct Lighting for Your Bathroom
How to Choose the Correct Lighting for Your Bathroom

The bathroom is one of the most important rooms in your home. Many daily tasks are carried out in this area, such as washing, shaving, and applying makeup. Therefore, it is extremely important that the room is illuminated sufficiently, so the individual can see clearly and complete tasks safely.
Traditionally, bathroom lighting has been functional lighting only. However, times have changed and so have the trends for bathroom lighting. Lighting in the bathroom now serves many other purposes.
There are two important features to consider when choosing your bathroom lighting. These are:
Colour Temperature
Zones & Ingress Protection (IP) Rating
First, you need to fully understand your bathroom lighting requirements. Ask yourself. How much natural daylight is shining through to your bathroom? Are there certain features of your bathroom that you want to enhance? Do you want to create an ambience to increase comfort? Are task areas illuminated enough so you and others in your home can see clearly? (Particularly important for older people. According to Belvedere Home Care, 80% of falls in the home by people aged 65 and over occur in the bathroom).
Colour Temperature
Colour temperature is used to describe the colour of the white light that a light bulb or fixture provides.
Most LEDs are produced to be either warm white or cool white. The warmer the colour, the lower the colour temperature, and the cooler the colour, the higher the colour temperature (See Colour Temperature Chart). Warmer colour temperatures offer a redder colour of light, whereas cooler colour temperatures give out a bluer light.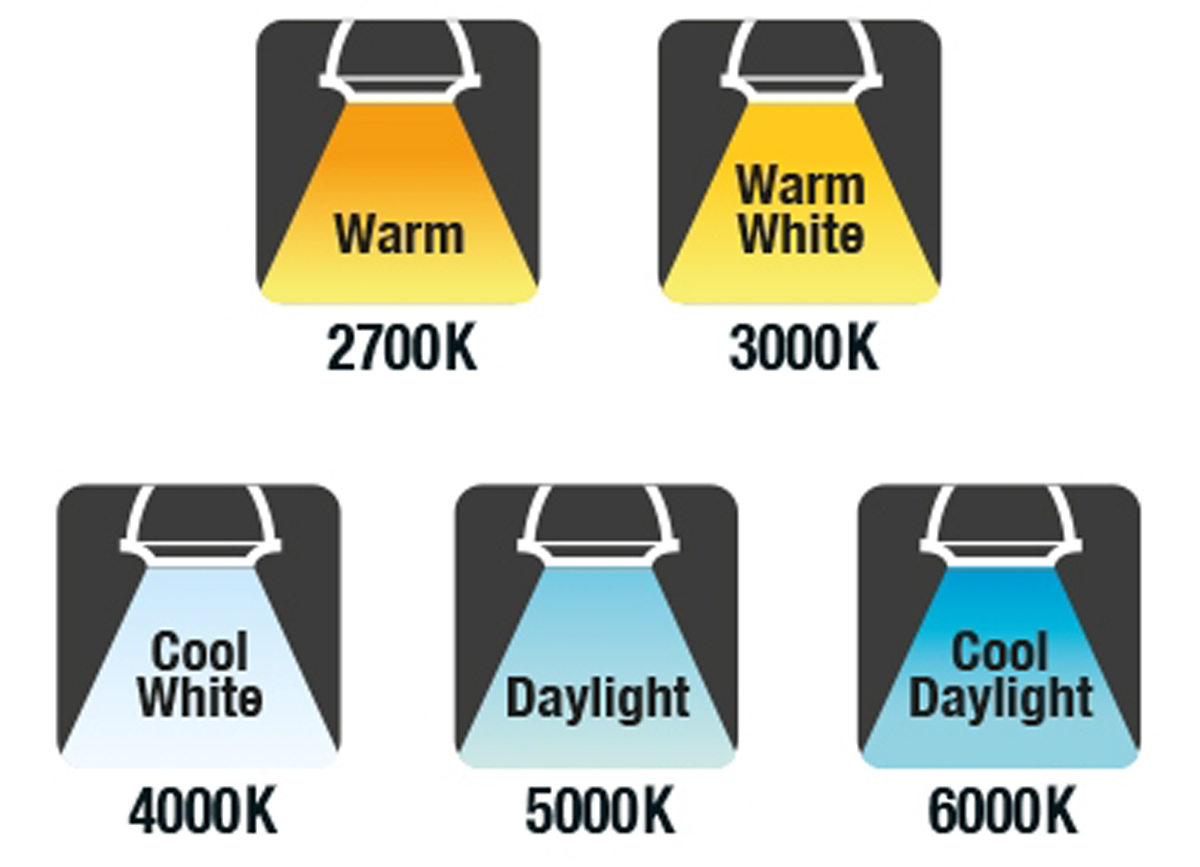 This begs the question, is warm white or cool white better for bathrooms? There is no right or wrong answer to this. Again, refer to your bathroom lighting requirements, discovered from the questions answered earlier.
Creating Ambience
The colour temperature plays an important role for creating ambience in your bathroom. For example, if you are looking to create a cosy atmosphere in your bathroom, a deep warm white colour temperature is a good choice. Therefore, warm white colour temperatures are quite often used in commercial environments, such as spas and treatment rooms, helping maintain that relaxed atmosphere.
On the other hand, if you want a cheery and upbeat atmosphere, cool white temperatures do the trick. Cool white is best for task areas in your bathroom, allowing these areas to be clearly visible, making it more convenient when completing your daily tasks.
It is important that you get the balance between functionality and ambience. For example, a warm glow for a relaxing soak may not be much use when trying to safely complete daily tasks in the morning.
Now that you understand what colour temperatures are and how they can be utilised, you can select the appropriate colour temperature for your bathroom with confidence.
Zones & Ingress Protection (IP) Rating
Understanding the ratings by which bathroom lights are classified is extremely important, as there are strict regulations regarding the type of lights you can use. Any sort of electrical equipment in baths, showers or any wet areas has always required extreme care to ensure safety.
Electricians use the term IP rating, which is an abbreviation for Ingress Protection rating. IP is always followed by two digits. These digits refer to the level of protection provided by the fitting. This is important to understand so you can select your light with the correct protection. The level of ingress protection required for bathroom lighting depends on where the fitting is installed.
Bathroom lighting is split into 3 zones to help you understand what IP rating you need for each area. Zone 0, 1, and 2.
Zone 0
Zone 0 bathroom lights are installed inside showers and baths. Any bathroom light that is used in this area must have an IP65 rating, minimum, and a low voltage. You can view our range of IP65 rated bathroom lights here.
Zone 1
The Zone 1 bathroom area is above the bath or shower, either in the wall or ceiling, to a point of 2.25m above the floor. This answers the question that many people ask, and the answer is yes, you can put a light above a shower. A lower rating can be used in these areas, with a minimum rating of IP44 required. View our range of IP44 rated bathroom lights here.
Zone 2
Zone 2 bathroom areas are 0.6m outside the perimeter of the bath and to a height of 2.25m from the floor. Again, this zone requires a minimum rating of IP44.
Ultimately, lighting performance depends on the quality of the bulb. Here at Meteor Electrical we have a large range of quality and trusted bathroom lighting brands.
So, now that you know how to choose the correct lighting for your bathroom, you can browse our wide range of bathroom lights today.